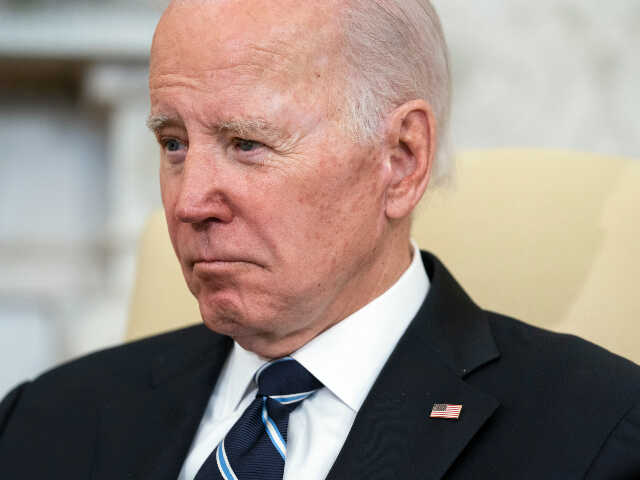 (RightIsRight.co) – President Joe Biden's modest rise in popularity among American voters since the November mid-term elections may be coming to a halt, as reported by The Hill.
The senior staff writer at the outlet, Amie Parnes, notes that the increase in approval ratings has waned since the start of 2023, citing several potential factors.
One of the reasons is the discovery of classified files at the president's Greenville, Delaware, residence and think tank office in Washington, D.C.
Another factor is Biden's delayed response to the Chinese balloon that hovered over U.S. airspace for over 24 hours before being shot down off the coast of South Carolina.
The findings from a recent Washington Post-ABC News poll revealed that 62% of Americans believe that Biden has not achieved much in his first two years in office.
The same poll shows that former President Donald Trump leads Biden by a slim margin, 48% to 45%.
Additionally, a recent survey from the AP-NORC Center for Public Affairs Research shows that only 37% of the Democratic Party wants Biden to run for re-election. This news has caused concern among Democrats, with Democratic strategist Brad Bannon saying President Biden should be "gravely concerned about his shaky position in the polls."
Still, Democrats hope that Biden's State of the Union address on Tuesday night could be an opportunity for him to "make a compelling case for re-election" and change the current narrative. Despite the potential challenges, it remains to be seen what impact the address will have on his approval ratings.
In conclusion, the dissatisfaction with Biden's presidency, the discovery of classified files, and the delayed response to the Chinese balloon seem to be affecting his popularity among American voters. Nevertheless, Democrats hope the State of the Union address provides an opportunity for Biden to change the current narrative and boost his approval ratings. Republicans doubt that will happen.
What is your opinion? Do you think Biden's poll numbers will go up or down after his State of the Union speech tonight? Share your thoughts by emailing [email protected]. Thank you.
President Joe Biden's steady increase in job approval among U.S. voters since the November midterm elections is showing signs of coming to an end, it was reported. https://t.co/imAyIlxL0L

— NEWSMAX (@NEWSMAX) February 7, 2023