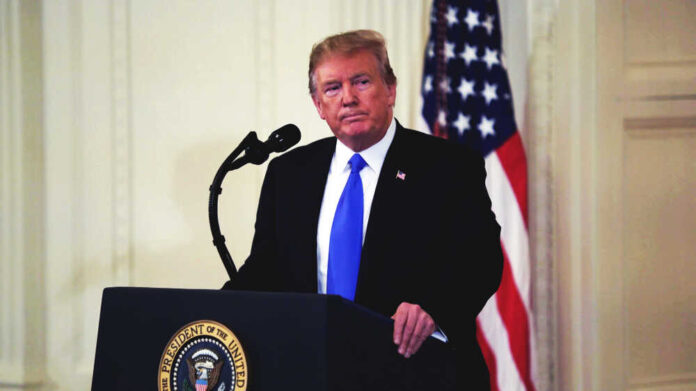 (RightIsRight.co) – In light of recent preventable political losses, former President Donald Trump has reportedly developed a negative stance towards Ronna McDaniel, the chairwoman of the Republican National Committee (RNC), and the committee's overall leadership.
This shift in attitude comes after a series of Republican defeats in high-profile contests across Virginia, Kentucky, and Ohio. Sources close to Trump suggest that party insiders blame McDaniel for the party's recent setbacks. These insiders are pushing for Trump to exert pressure on McDaniel to resign.
Trump's disapproval of McDaniel heightened after Rep. Kevin McCarthy, a California Republican, lost the speakership earlier this year. Sources reveal that the same individuals who opposed McCarthy's support are now advocating for McDaniel's resignation. "We didn't want McCarthy, and then months later we lobbied the president to not save McCarthy," disclosed a source involved in these efforts. The anonymity of these individuals has been preserved to allow open discussion about private matters.
Despite McDaniel's reelection to her fourth two-year term as RNC chair in January, Trump's allies believe that the pressure from the party's conservative base will become overwhelming if he publicly demands her resignation. Critics within Trump's conservative faction fault the RNC, under McDaniel's leadership, for insufficient support during recent elections.
In Virginia, for instance, the GOP narrowly failed to secure majorities in both the House of Delegates and the state Senate. Virginia's Republican Party Chairman, Rich Anderson, accused the RNC of refusing to fund critical state legislative campaigns. Anderson claimed that he had approached the RNC earlier this year for financial support in challenging races, only to be denied on the grounds of fundraising difficulties in an off-year.
Contradicting this, McDaniel asserts that Virginia's Republican Governor, Glenn Youngkin, and his team had indicated that RNC assistance was unnecessary.
Prominent figures like former White House chief strategist Steve Bannon, who hosts the influential streaming show "War Room," openly advocate for Trump to intervene against McDaniel. During a discussion with conservative commentator Rogan O'Handley, Bannon amplified these concerns, with O'Handley expressing apprehension about McDaniel's effectiveness and potential detriment to the party's prospects in 2024.
Furthermore, the RNC seems to be trailing the Democratic National Committee (DNC) in fundraising efforts. While the DNC raised over $13 million in September and began October with $20 million in cash, the RNC collected just over $6 million in the same period, with about $9.2 million on hand.
Despite these challenges, the exact nature of the relationship between McDaniel and Trump remains unclear. Another Trump associate was unaware of any plans for Trump to demand McDaniel's resignation. They recalled Trump's previous dissatisfaction with McDaniel, stemming from his perception that the RNC did not adequately support his efforts to contest the 2020 election results.