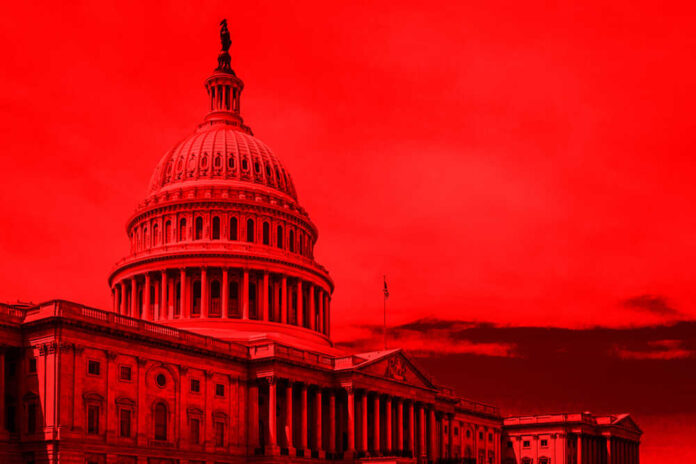 (RightIsRight.co) – Underscoring lingering unity issues inside the GOP, a five-term conservative Republican US congressman has called it quits on his political career with a video message that seemed like a thinly veiled criticism of Donald Trump and MAGA for "fixating" on the 2020 election.
In a three-minute video statement posted on his X account (see below), Rep. Ken Buck (R-CO), a former head of the Colorado GOP who is now in his fifth term in the US House of Representatives, has announced his decision not to seek reelection in 2024.
Buck, part of the conservative House Freedom Caucus, was one of its only two members who supported certifying the 2020 election results in January 2021.
Recently, he was one of the eight Republicans who voted with the Democrats last month to depose then-House Speaker Kevin McCarthy.
In his video address, Buck declared he had arrived at the decision to quit Congress "after careful consideration and much prayer."
"I am grateful for your support as we have fought against the left's policies that have had real-world consequences: defunding the police, politicizing student loans, provoking inflation with excessive spending, creating open borders, decimating our domestic energy production," he told his constituents in Colorado's 4th congressional district.
While declaring that "Americans are rightfully concerned about our nation's future," the congressman cautioned that their hopes "for Republicans to take decisive action may be in vain."
"Our nation is on a collision course with reality, and a steadfast commitment to truth, even uncomfortable truths, is the only way forward," Buck declared.
"Too many Republican leaders are lying to America claiming that the 2020 election was stolen, describing January 6 as an unguided tour of the Capitol, and asserting that the ensuing prosecutions are a weaponization of our justice system," he elaborated.
The Colorado Republican accused many in the GOP of destroying the nation's confidence in the rule of law by "being obsessively fixated on retribution and vengeance for contrived injustices of the past."
"Our movement has always been fueled by immutable truths about human nature, individual liberty, and economic freedoms. The Republican Party of today, however, is ignoring self-evident truths about the rule of law and limited government in exchange for self-serving lies," Buck insisted.
He vowed to remain involved in advocacy efforts for the long-term reforms that the nation needed.
Earlier today I announced that I won't be seeking re-election to the U.S. House of Representatives.

To my friends in Colorado, thank you for allowing me the opportunity to serve our nation. Being your representative in Washington DC has been the highest honor of my life. pic.twitter.com/FQdPVbpH46

— Rep. Ken Buck (@RepKenBuck) November 1, 2023